The Fifth Secret Poem (Le Cinquième poème secret)
8,5 in. x 12,5 in. frame
1 handwritten page - French
Limited edition
Gratisversand

Kontaktlose Lieferung
The Fifth Secret Poem (Le Cinquième poème secret): a manuscript by Guillaume Apollinaire
« Mes amours d'un instant valent des amours d'un siècle » (My momentary loves are worthy of century-long loves) wrote Guglielmo Alberto Wladimiro Alesandro Apollinaire de Kostrowitzky, more widely known as Guillaume Apollinaire. Is this why "Le Pont Mirabeau", La "Chanson du Mal-Aimé" and his famous Calligrammes, have stood their test against time and continue to resonate so strongly today?
Was he one of the greatest poet of the 20th century, as his contemporaries liked to say? Apollinaire composed the groundbreaking Alcools anthology of poetry in which he disrupted conventional codes by deleting all traces of punctuation (in his corrected proofs.) Apollinaire favored musicality to rhythm. His words created their own tempos.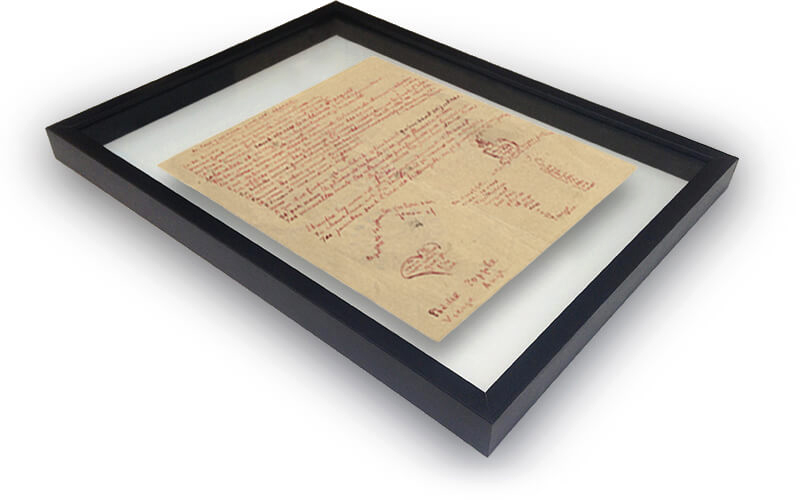 Apollinaire started writing as a child. He scribbled, took abundant notes wherever he was – whether in the trenches or in a hospital bed. He habitually let his mind and body wander, seeking out inspiration in landscapes, people, and his many loves…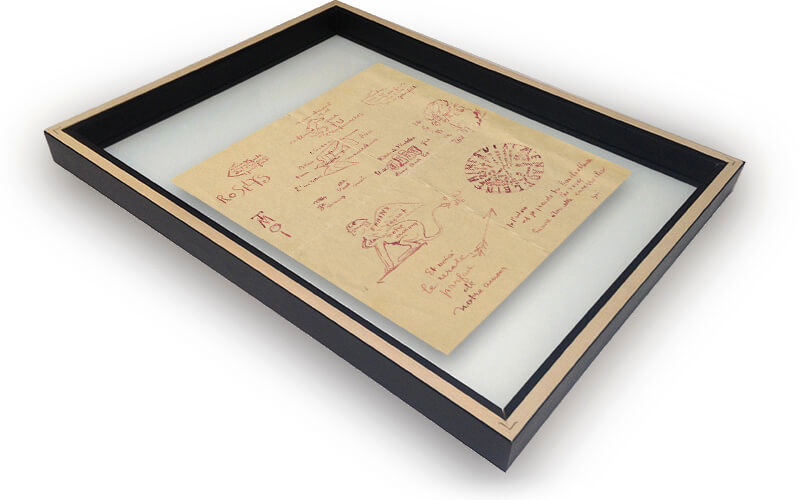 By the time he wrote this poem, "Cinquième poème secret," Apollinaire was well known. Published in many literary reviews, a lecturer and art critic, he was already the author of his scandalous Onze Mille Verges (1907) ; L'Hérésiarque had received certain Goncourt votes in 1910, and Alcools had been published by Mercure de France in 1913.
Here he writes from the trenches to Madeleine Pagès. He dedicates a total of eleven secret poems to her between September and December of 1915.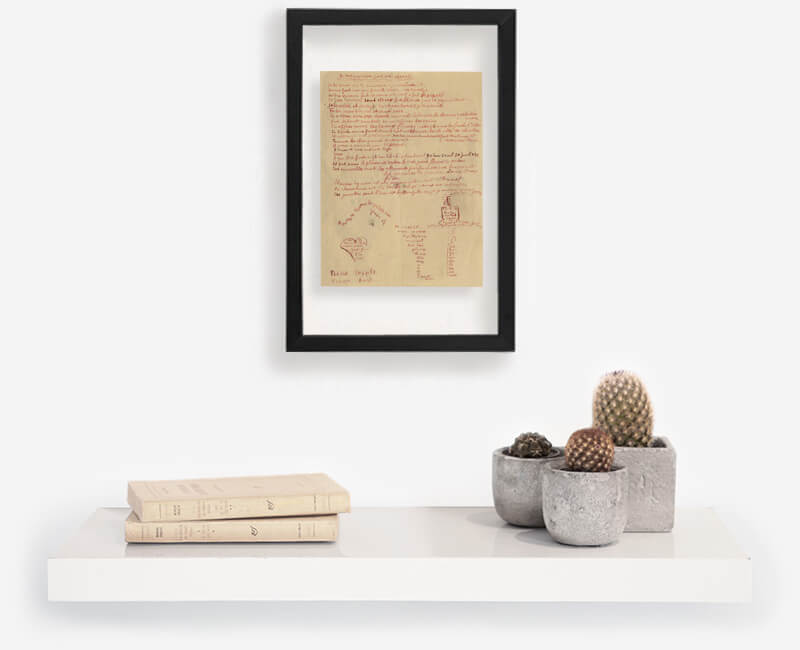 Transcription
Je te baise sur la bouche goulûment,
Nous faisons du bruit avec nos bouches
Notre amour fait de nous un seul être bisexuel
Et nos bouches sont deux batteries qui se répondent
Echevelée et vierge la chevelure épanouie
Tu te prosternes devant moi
Tu adores mon sexe dressé comme la borne du chemin que tu dois suivre
Puis debout cambrée tu m' offres tes seins
Tu offres aussi tes beaux flancs mûrs comme les fruits d' Eden
Tu hurles comme font dans le rut nocturne les chattes en chaleur
Et alors je me précipite sur toi comme une musique soudaine et merveilleuse
Comme les obus quand ils arrivent
Et nous sommes un, bisexués
Fleurs d' une même tige
Nous
A qui il ne faudra qu'un lit et plus tard qu'un seul sépulcre
Et par nous le plaisir désertera le vice pour fleurir en vertus
Tes mamelles sont les alcancies parfumées que lançaient les Maures de Grenade dans leurs fêtes
Et notre hymen est un accouplement éternel
Ta chevelure est la tente où je veux m' abriter
Tes jambes sont l'arc de triomphe où je passerai vainqueur
Le poème de tes jambes j' adore ton genou et ta cuisse
Ainsi je veux symboliser aujourd'hui ton plaisir et mon désir
Mon adorée Madeleine
VENUS
Voici le Bateau de Port Vendres
Je t'aime je t'aime je t'aime
Je t'aime je t'aime je t'aime
Et voici mon cœur que je t'envoie
Je t'aime
Une bougie qui coule tendrement
Phèdre Poppée
Vierge Ange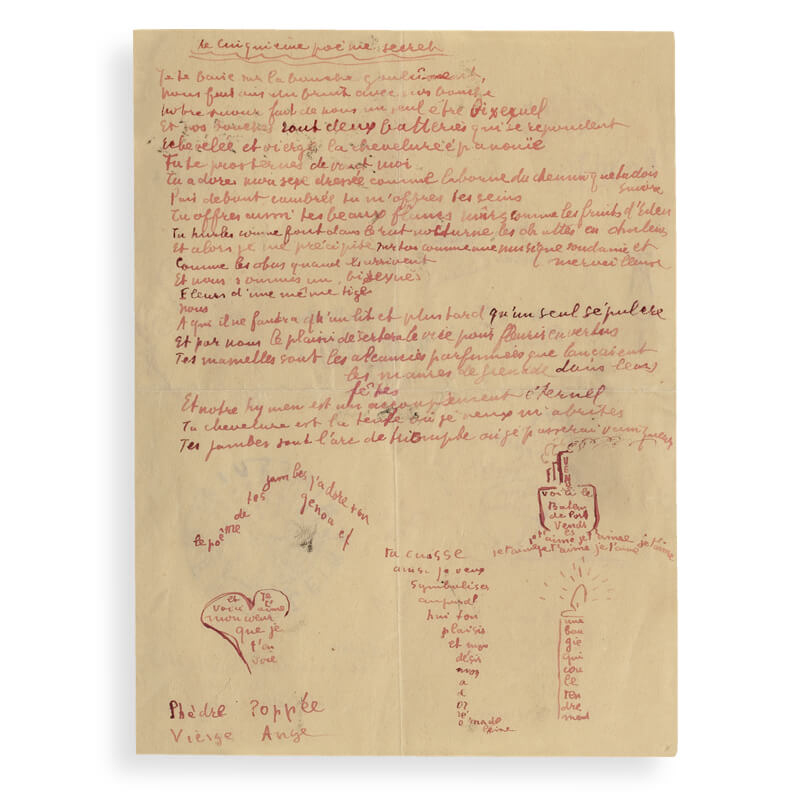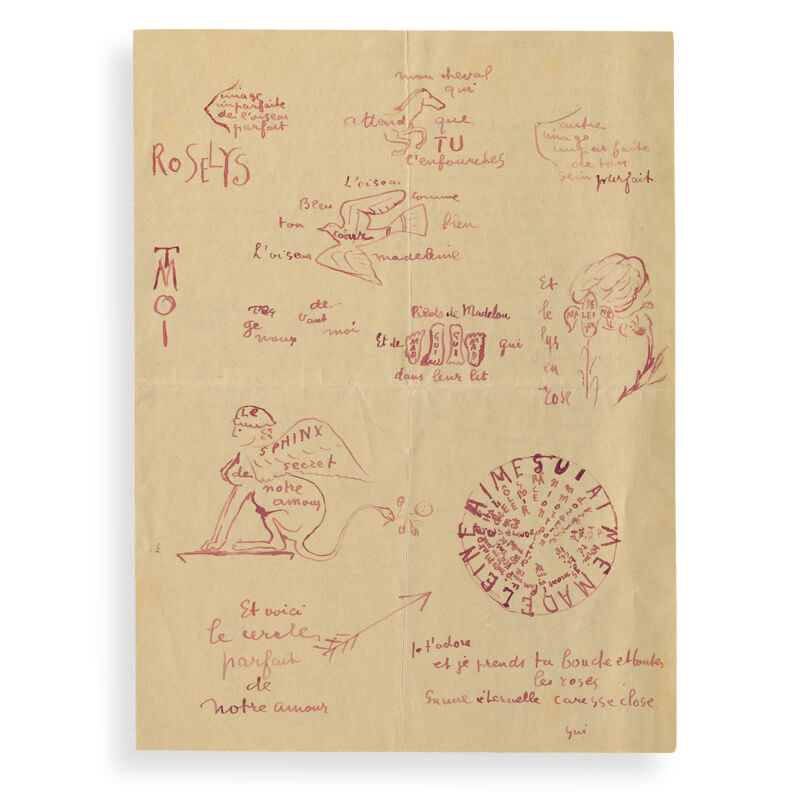 Handmade in France
The frame is handmade from high quality wood.
Our frames are made in France.
Every order is handcrafted by our team in our Normandy office.